Call today 1-855-4OPENDOOR for your free estimate.
Numeric 1-855-467-3636 (67)
Demolition
Excavation & Grading
Pond Construction & repair


We clear land, build and repair ponds, clean out retention ponds and offer demolition services in Greenville SC, and these neighboring towns in the upstate area: Greer, Easley, Piedmont, Simpsonville, Taylors, Mauldin, and Spartanburg SC .


This is a video clip of a demolition and land clearing project we completed in the Greenville/Spartanburg area.
http://youtu.be/NhxKkwaAYek


This pond repair job was preformed in Greenville County and was captured by time lapse. The customers pond water level needed to be lowered. Open Door Construction sawed off the drain pipe 4 inches to allow for efficient drainage. Here is the link to view the Greenville SC pond repair : http://youtu.be/QCvPxsF73XU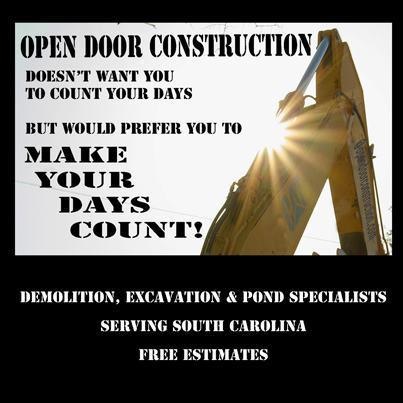 If you have property in Greenville County and would like to discuss plans for your land or need demo services please consider giving us a call 1-855-4OPENDOOR
1-855-467-3636 (67) we try to be available to answer all calls!

*Residential Demolition

*Commercial Demolition

*Pond services and repair.

*Land clearing and grading

*Family owned and operated.


Offering our professional demolition and land developing services to these zip codes in your local area. 29601, 29605, 29607, 29609, 29611, 29615, 29617, 29642, 29650, 29662, 29673, 29680, 29687