Demolition services for Greenville SC, Anderson SC, Columbia SC, Spartanburg SC Aiken SC and nearby local areas call 1-855-4OPENDOOR for a free estimate.

Local demolition man and his demolition services in South Carolina for residential demolitions and commercial demolition clients. As a prime demolition contractor or hired as a demolition subcontractor Open Door Construction will handle the job professionally and safely, we understand the appropriate ways to safely demolish residential and building demolition projects with 13+ years of experience.
We specialize in the total wrecking, bulldoze, removal and disposal or partial demolition and disposal of projects all shapes and sizes including demolishing condemned or burned dwellings. Our demolition contractor will work with you and your insurance company to help the home demolition go as smoothly as possible.
We offer estimates for insurance company demolition claims.
When you Contact our demolition company you will be in touch with a local family owned business that values you as a customer. Building demolition prices can be quoted over the phone.
We ask you a few questions and can quote your demolition costs.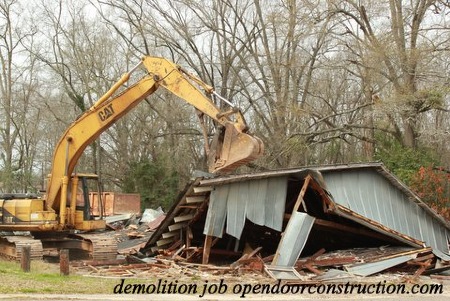 Watch our short you tube video of a building demolition http://youtu.be/cxfAdqUtb6s

Residential Demolition Projects

Any residential structure standing, collapsed, condemned or destroyed by fire.

Commercial Demolition Projects

Adhering to state and county permitting and licenses for commercial demolition jobs.
Working with contractors licensed in hazardous material surveying and asbestos abatement.We are knowledgeable of DHEC requirements and filling out appropriate forms.

Selective interior demolition
Parking lots & cement curbs.
Demolition is one of our services, be sure to visit our Excavation & Grading page to learn more about our land development services. Visit our Pond Construction & repair page if you are interested in discussing plans to have a pond built or needing repairs on an existing pond.

We recycle as much of demolition debris as possible.